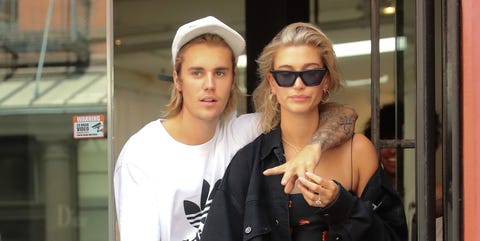 Getty ImagesBG024/Bauer-Griffin
Justin Bieber and Hailey Baldwin, lovers of New York City and making out in it, missed the opportunity to do their first red carpet as a reconciled, newly-engaged couple tonight at the MTV Video Music Awards. But their absence isn't surprising, considering Bieber is not nominated for any awards, and it was reported by TMZ way back in January that Bieber will be skipping all award shows until he releases his new album.
Advertisement – Continue Reading Below
Of course, this means it may be a good while until he attends anything, since Bieber said last month that getting married to Baldwin is next on his agenda, (as opposed to releasing new musi)c. They've since decided to slow their wedding planning down.
Jailey isn't even in New York City—though they are in New York state. Bieber and Baldwin were seen in upstate New York's Skaneateles today. Bieber shared an Instagram story this morning from a gorgeous lakefront and took a photo with a fan. . Sure, Jailey could fly by jet to the awards, but Bieber really has little incentive to sit through the show and leave his vacation with the girl who describes him as her "absolute best friend."