Donald Trump has met the Pope at the Vatican on the latest leg of his first foreign trip as US President.
The two leaders, who offer starkly contrasting world views, appeared to set aside differences to offer a united message of peace.
During the 30-minute meeting at the Apostolic Palace, the Pope presented the President with copies of his three main teaching documents, a traditional gift for visiting heads of state, and a medal embossed with an olive branch.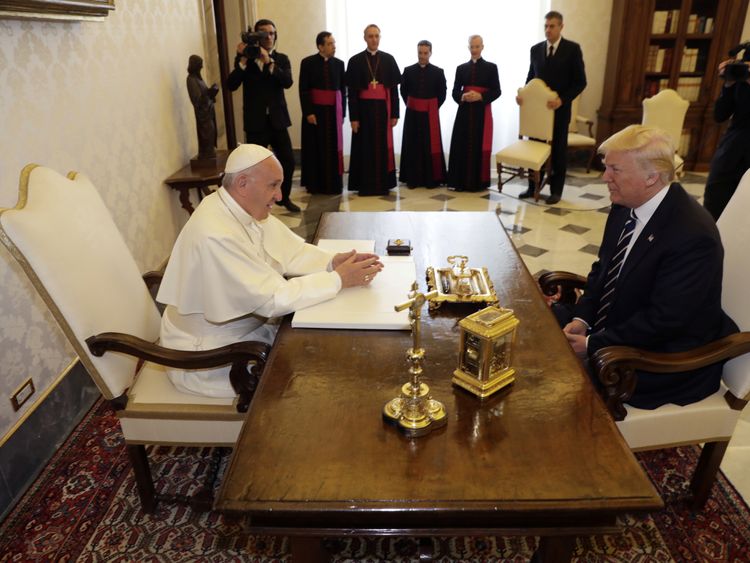 Mr Trump received the medal, commenting: "We can use peace". He added he would be reading the Pope's teachings.
As the two men chatted, Mr Trump was heard telling the Pope that it was "a great honour" to meet him.
The Pope was then introduced to the Trump delegation, including Mr Trump's wife Melania, his daughter Ivanka and her husband Jared Kushner, a senior Presidential advisor.
In a light moment, the Pope used his translator to ask the First Lady "What do you give him to eat? Potica (a calorie-laden Slovenian cake)?". There was some confusion as at first many believed he had asked if she fed him pizza.
During the American election campaign, Mr Trump's plan to build a wall on the Mexican border was criticised by Pope Francis as was his pledge to turn away Muslim immigrants and refugees.
"A person who thinks only about building walls, wherever they may be, and not building bridges, is not Christian," the Pope had said. Mr Trump respondent at the time saying it was "disgraceful" for the Pope to doubt his faith.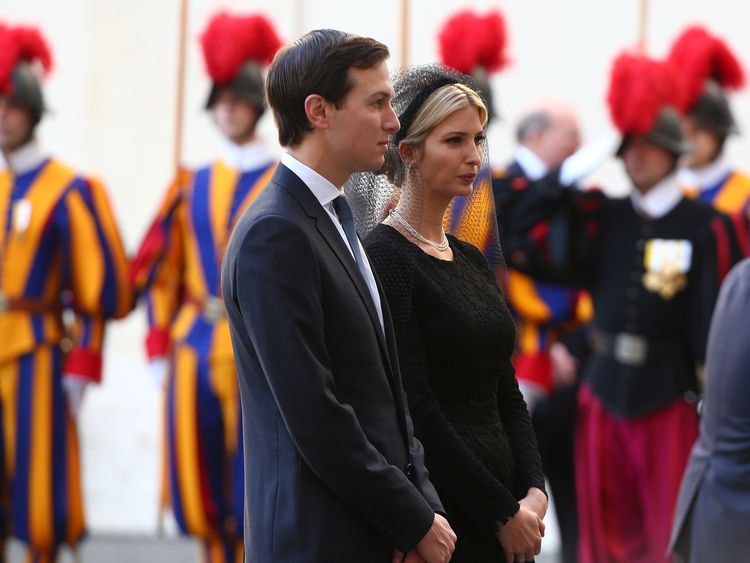 More potentially awkward meetings await the President on the next leg of his trip to Belgium where he is attending a NATO summit, meeting the leaders of the European Union as well as the King, Queen and Prime Minister of Belgium.
During the election campaign, Mr Trump declared that the NATO military alliance, of which the United States is a principle member, was "obsolete".
Although he U-turned last month, declaring that the alliance was "no longer obsolete", he has remained extremely critical of most members' refusal to spend the required 2% of GDP on defence.
He has also continued to demand the alliance steps up its role in fighting terrorism, something that will have significantly increased resonance following the Manchester terror attack.
NATO insiders have admitted that no one is quite sure what message Mr Trump will deliver to the alliance.
President Trump will also hold important meetings with the Presidents of the European Council and Commission, Donald Tusk and Jean-Claude Juncker.
As with the Vatican meeting, the EU talks are also set against an awkward backdrop. Mr Trump's famously eurosceptic views following Brexit, which he applauded, were met with anger in Brussels. Mr Juncker said at the time: "If that continues, I'll call for Ohio to be independent and Texas to leave the United States."