Senior Republicans have criticised Donald Trump's executive order banning people from seven Muslim countries from coming to the US.
Senator John McCain said the President's order has been "confusing" and raised a number of questions.
He said the order, which has led to hundreds of people being detained at airports around the world and unable to fly, could give Islamic State propaganda material.
Sen McCain and his fellow Republican Senator Lindsey Graham said in a joint statement: "We fear this executive order will become a self-inflicted wound in the fight against terrorism.
"This executive order sends a signal, intended or not, that America does not want Muslims coming into our country. That is why we fear this executive order may do more to help terrorist recruitment than improve our security."
Our country needs strong borders and extreme vetting, NOW. Look what is happening all over Europe and, indeed, the world – a horrible mess!

— Donald J. Trump (@realDonaldTrump) January 29, 2017
Republican Senate majority leader Mitch McConnell also expressed concern, telling ABC's This Week the Government needs "to be careful".
He said the US should remember that some of the "best sources" in the war against terror were Muslims, both at home and abroad.
It came as further protests, including one in Washington DC, took place across the US in protest at the order.
:: Iraqis say US President Donald Trump 'has gone to war with Islam'
Attorney generals from 16 states, including California and New York, said they may challenge the legality of Mr Trump's order and top Democratic Senator Chuck Schumer said his party would be introducing legislation to overturn what Mr Trump had put in place.
The controversial executive order for "extreme vetting" means no visas are being issued for 90 days to migrants or visitors from Iran, Iraq, Libya, Somalia, Sudan, Syria and Yemen.
Mr Trump has defended the measure in an apparent reference to recent terror attacks across Europe.
He tweeted: "Our country needs strong borders and extreme vetting, NOW. Look what is happening all over Europe and, indeed, the world – a horrible mess!"
He added later: "Christians in the Middle-East have been executed in large numbers. We cannot allow this horror to continue!"
His order also imposed an indefinite ban on the entry of Syrian refugees as it was "detrimental to the interests of the United States".
The ban on Syrians meant that among those refused entry was a Syrian Christian Orthodox family of six, who were turned back from Philadelphia International Airport after travelling to the United States from Lebanon, sources told Reuters.
:: Trump's immigration ban: Stranded travellers speak of fear and dismay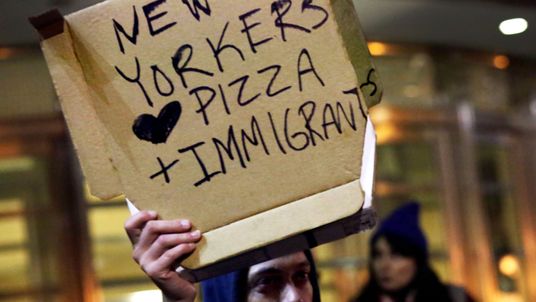 The executive order was widely condemned around the world, with the Arab League chief voicing "deep concern".
The Iraqi parliament's foreign affairs committee said in a statement: "Iraq is in the front line of the war on terrorism … and it is unfair that the Iraqis are treated in this way."
Some in Iraq, including hardline Shia representatives, went further, demanding the Iraqi PM expel US citizens in retaliation.
Senior politicians in several European countries also criticised the order, including German Chancellor Angela Merkel and the French and Swiss foreign ministers.
In the UK, Theresa May ordered Foreign Secretary Boris Johnson and Home Secretary Amber Rudd to call their US counterparts to raise concerns.
But Mr Trump's allies stepped in to defend him during the Sunday morning political programmes on US television.
His adviser Kellyanne Conway told Fox News Sunday: "You're talking about a hundred and some who have been detained who are prevented from gaining access to aircraft in their home countries.
"They must stay for now, that's 1%, and I think in terms of the upside being greater protection of our borders and people, it's a small price to pay.
White House chief of staff Reince Priebus added to the confusion over whether people who have green cards, which would normally give them the right to come to the US without a visa, would be allowed to enter.
In an interview with CBS News he said they would be allowed to enter, but then added that they would be subject to extra checks.
He also said it might be possible that the number of countries included in the ban would be increased, possibly to include Pakistan.
Read more:
:: Mo Farah – Trump seems to have made me an alien
:: Trump's travel ban leaves passengers stranded
:: In pictures: Protests over Trump's travel ban
:: John Legend: America 'has to be better' than Trump
:: Executive powers: What Trump can and can't do
:: President Trump: His first week in office