Four-time Olympic champion Simone Biles says she was sexually abused by former USA gymnastics team doctor Larry Nassar.
Nassar was jailed in December 2017 for 60 years for possession of child abuse images and is also awaiting sentencing after admitting to assaulting seven female gymnasts.
The 54-year-old could be jailed for life under the sexual assault charges, to which he pleaded guilty.
Biles, 20, said she had been debating whether or not to go public with her story as she continues to train for Tokyo 2020.
The four-time Olympic champion wrote on Twitter: "Most of you know me as a happy, giggly, and energetic girl.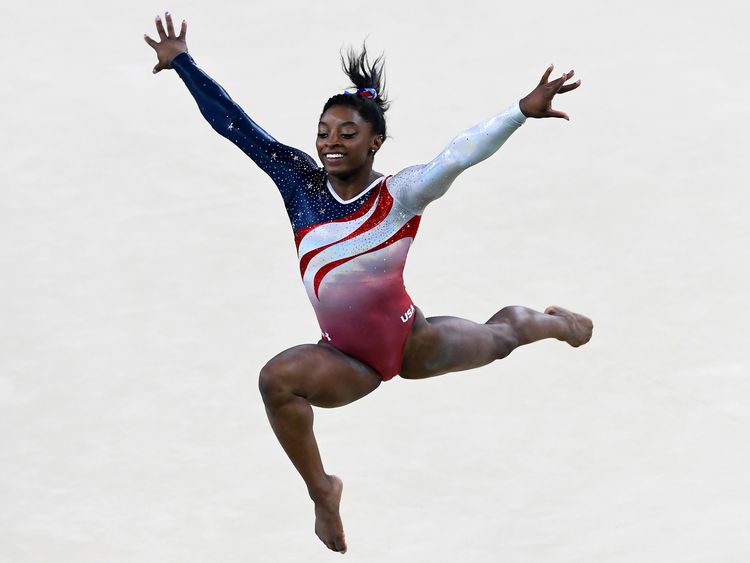 "But lately I've felt a bit broken and the more I try to shut off the voice in my head the louder it screams. I am not afraid to tell my story anymore.
"I too am one of the many survivors that was sexually abused by Larry Nassar."
She added: "For too long I've asked myself 'Was I too naive? Was it my fault?' I now know the answer to those questions. No. No, it was not my fault. No, I will not and should not carry the guilt that belongs to Larry Nassar, USA Gymnastics and others.
"It is impossibly difficult to relive these experiences and it breaks my heart even more to think that as I work towards my dream of competing in Tokyo 2020, I will to have to continually return to the same training facility where I was abused."
Several high-profile gymnasts have come out against Nassar, including six-time Olympic medalist Aly Raisman, 2012 all-around champion Gabby Douglas and two-time Olympic medalist McKayla Maroney.
In a statement, USA Gymnastics said it was "absolutely heartbroken, sorry and angry that Simone Biles or any of our athletes have been harmed by the horrific acts of Larry Nassar.
"USA Gymnastics will continue to listen to our athletes and our members in our efforts of creating a culture of empowerment with a relentless focus on athlete safety every single day."
Nassar was accused of molesting more than 100 female athletes over the course of three decades when he worked with the USA gymnastics team.
A civil lawsuit has been filed on behalf of 100 victims, but their attorney, John Manly, said the total number could be high as 160.