Indonesia's tsunami detection system has been rendered useless by vandalism and a lack of funding, according to experts.
Now scientists are developing a way to change the system – made up of seafloor sensors that communicate with expensive transmitting buoys on the surface – which could give crucial extra minutes of warning for coastal cities.
The prototype, which has been under development for four years, is designed to detect so-called near-field tsunamis and has been tested off the coast of Padang, Sumatra.
The devastating Boxing Day tsunami in 2004 in the Indian Ocean, which killed or left missing nearly 230,000 people, raised the urgency of early warnings.
But when a powerful earthquake struck near the Menatawi islands in March last year, none of the tsunami warning buoys in the area were working.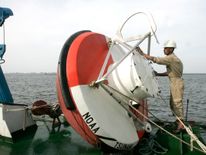 A disaster official said all of Indonesia's 22 buoys, which cost hundreds of thousands of dollars each and are expensive to operate, were inoperable because of vandalism by boat crews or a lack of maintenance funds.
Last year's quake did not trigger a tsunami, but it sparked a panicked evacuation of Padang. Due to a lack of information, officials could not cancel the tsunami warning for two hours.
Iyan Turyana, an ocean engineer at BPPT – Indonesia's agency for the assessment and application of technology – said: "Now we have no buoys in Indonesia. They are all damaged.
"Where do you live in Indonesia? Jakarta – it's okay. But if you live in Padang, if you live in Bengkulu, your life is very dangerous."
Aceh province in the north of Sumatra saw more than 100,000 people lose their lives in the wake of the 2004 earthquake.
But now Padang and other nearby cities face the greatest danger from tsunamis.
Japan has linked dozens of seafloor sensors off its eastern coast with fibre-optic cable to boost its detection abilities.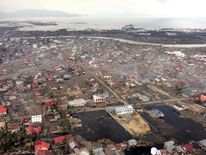 That cost several hundred million dollars and would be too expensive for Indonesia.
Thanks to $3m of funding from the US National Science Foundation, a prototype network of undersea sensors has been placed between Padang and the Mentawi islands.
These sensors do not require buoys because seismometers and pressure sensors send data-laden sound waves to the warm surface waters.
From there, they refract back towards the bottom and the next sensor in the network before finally reaching fibre-optic cables which connect it to a station in the Mentawi islands.
Louise Comfort, a disaster management expert at the University of Pittsburgh, said: "This entire process likely takes one to three minutes instead of the five to 45 minutes typical of the buoy system."
Placing the cable would cost Indonesia around 1.5bn rupiah (£90,000) and experts hope the system could be used by other areas vulnerable to tsunamis.