NFL players will be fined if they kneel during the US national anthem.
American footballers competing in the league will have to stand on the pitch during The Star Spangled Banner or remain in the locker room.
The National Football League (NFL) was at the centre of controversy during the 2017-18 season, as predominantly black players across the competition refused to stand for the anthem.
Former San Francisco 49ers quarterback Colin Kaepernick began the protests in 2016 as a way of drawing attention to police brutality, social injustice and racial inequality.
The movement gained momentum a year later when President Donald Trump referred to those who took the knee as "sons of b*****s" who should "get off the field right now".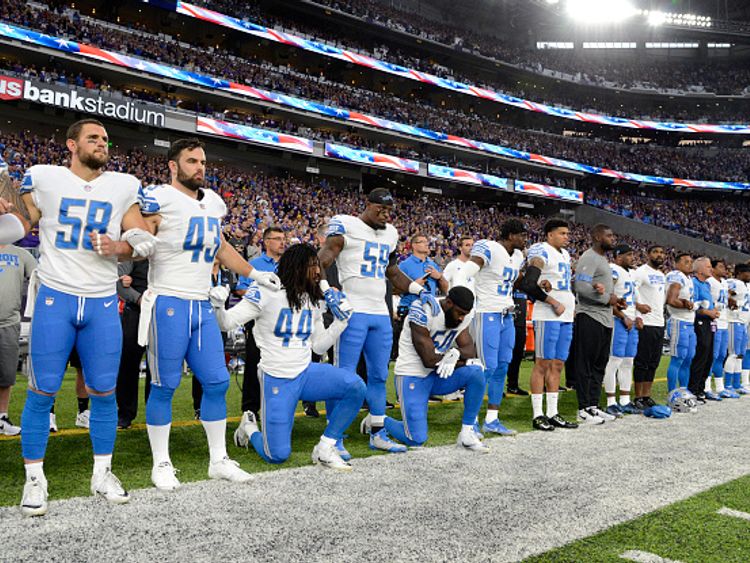 His remarks prompted a wave of further protests across the 2017 NFL season, putting several conservative Trump-supporting team owners in an awkward position.
NFL chiefs were reluctant to introduce a law ordering players to stand for the anthem, with Wednesday's deal intended to be a compromise.
The change will remove existing regulations that require all footballers to be on the field for the anthem.
NFL commissioner Roger Gooddell said in a statement: "This season, all league and team personnel shall stand and show respect for the flag and the anthem."
The booing at the NFL football game last night, when the entire Dallas team dropped to its knees, was loudest I have ever heard. Great anger

— Donald J. Trump (@realDonaldTrump) September 26, 2017
He continued: "If anyone is on the field and is disrespectful to the anthem or the flag, there will be a fine from the league against the team.
"The team will have its own rules and make their own decisions."
Mr Goodell rejected remarks that claimed the protesting players were "unpatriotic".
He said: "It was unfortunate that on-field protests created a false perception among many that thousands of NFL players were unpatriotic.
"This is not and was never the case."
The NFL Players Association has threatened to challenge the decision, claiming that the league "chose to not consult" them over the policy.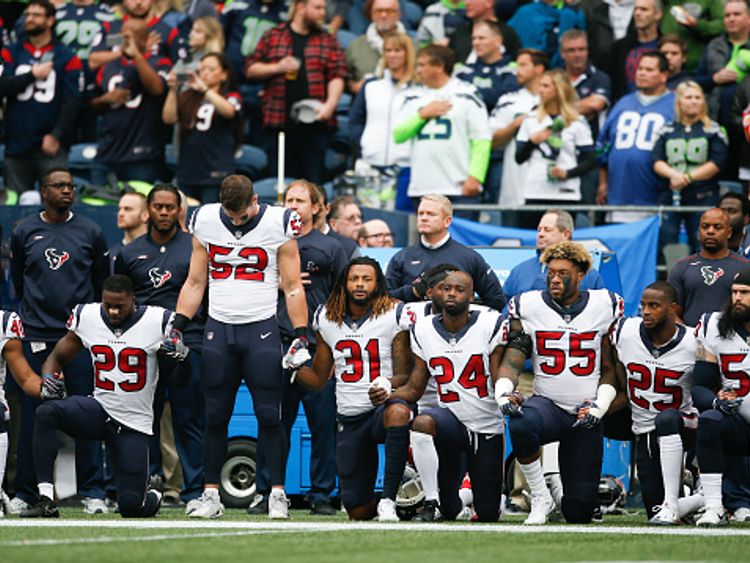 The union added: "The vote by NFL club CEOs today contradicts the statements made to our player leadership by commissioner Roger Goodell and the chairman of the NFL's management council, John Mara, about the principles, values and patriotism of our league.
"Our union will review the new 'policy' and challenge any aspect of it that is inconsistent with the collective bargaining agreement."
Mr Kaepernick has been unable to secure a team in the NFL since he first knelt in protest at a pre-season season game on 26 August 2016.
The former quarterback is now suing the NFL, claiming the owners colluded to keep him unsigned in retaliation for the protests.
The NFL consists of 32 teams and is the highest professional level of American football in the world.