Two key candidates in the upcoming French presidential election are holding crucial rallies in the same city this weekend.
The separate gatherings in Lyon, by far-right Front National (FN) leader Marine Le Pen and independent centre-left candidate Emmanuel Macron, mark the beginning of the most crucial stretch of the election campaign.
Ms Le Pen began her event by announcing 144 "commitments".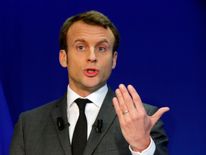 They included leaving the eurozone, curbing immigration, hiring 15,000 police officers, taxes on the job contracts of foreigners, and lowering the retirement age.
"The aim of this programme is first of all to give France its freedom back and give the people a voice," Ms Le Pen said.
All the political parties have now picked their candidates.
The ruling socialists were the last to do so, choosing leftist Benoit Hamon over the more establishment future and former prime minister Manuel Valls a week ago.
The centre-right Les Republicains party chose Francois Fillon last November but his candidacy is now in crisis after allegations of a financial corruption scandal involving his wife.
Mr Fillon had been favourite to win the presidency until the scandal.
Now, the two candidates considered most likely to make it to the second round run-off in May are Ms Le Pen and Mr Macron, who will both deliver key speeches in Lyon.
Mr Macron, 39, was an economy minister in the ruling government of Francois Hollande until he quit his job and the Socialist Party last summer.
By no means a household name, he has defied dismissive critics to form his own independent party.
Called En Marche, a play on words meaning "On the Move" but clearly hinting at his desire for a new political movement to be formed, the party has upwards of 175,000 members and healthy balance sheets with no shortage of donors.
Mr Macron is expected to tell supporters he is the only candidate capable of going head to head with Ms Le Pen as she formally launches her bid to be come president at a gathering of the Front National.
The hardline nationalist is due to outline her vision for France in a closely watched speech on Sunday.
French voter arithmetic suggests Ms Le Pen will make it into the second round run-off.
Polls put her support nationally at about 25%, ahead of Mr Macron who is on about 20%.
Mr Fillon, was in second place until the scandal surrounding payments to his wife for work she is alleged not to have carried out.
He is now in third place with a projection of about 18% of the vote nationally. The ruling socialists are languishing in fourth place with just 16%.
However, in the second round, Ms Le Pen is expected to hit a ceiling of support at a little over 30-35%.
Centrist voters on the left and on the right are expected to choose Mr Macron, with current polls suggesting he would receive more than 60% of the vote, propelling him to the Elysee Palace.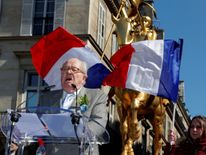 However, the young and relatively inexperienced independent, whose success is down in large part to his shunning of the political establishment, is yet to reveal the detail of his policy plans.
He is pro-EU at a time when the union is undergoing profound strains.
Conversely, Ms Le Pen is deeply Eurosceptic and critical of the single currency.
She campaigns on a populist, nationalist ticket with strict immigration policies at its heart. She is an enthusiastic supporter of Donald Trump and his policies for America.
But she and her policy advisers have tried to polish the image of the National Front, which under its founder and her father, Jean-Marie Le Pen, was seen as overtly racist.
The FN still struggles to shake that image especially with voters of an older generation who still feel the racism associated with Mr Le Pen.
With Mr Fillon limping through his financial scandal, Ms Le Pen will be looking to pull some of his more centrist supporters to the right.
With the economy limping, unemployment running at 10% nationally (youth unemployment is over 20%), and ongoing terrorism concerns, voters are increasingly looking away from the establishment parties for an alternative.
Mr Macron and Ms Le Pen both hope they can provide it.