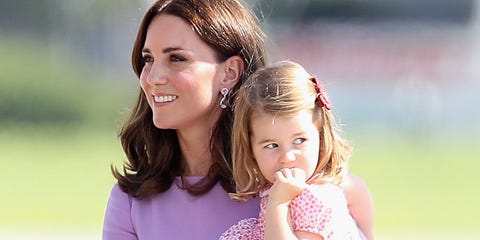 Getty ImagesChris Jackson
While Princess Charlotte was deliberately absent from her parents' Kensington Palace Christmas party Tuesday because she had school, Kate Middleton did take Charlotte out on their own festive London outing ahead of the holidays. People reports that the Duchess of Cambridge took her three-year-old daughter to see The Nutcracker at the Royal Opera House.
This wasn't a standard, public performance either; it was a special early sneak peek. Charlotte and Kate got to see a pre-rehearsal performance by the Royal Ballet. Unfortunately for all of us, no photos have been released. The Palace and Royal Opera House had no comment on the outing for People.
Kate has been vocal about how excited her children are about Christmas in the past week. She told guests at a holiday event in Cyprus yesterday that she had taken George and Charlotte down to their Kensington Palace holiday party site after school Tuesday, but there was nothing left of it. "We took the children down to where the party was but everything was gone," Kate said, via People. "They were so disappointed!"
Generally, Charlotte and George are so pumped about Christmas though, Kate said during her Leicester event last week. "They're getting excited for Christmas time because they've started all their Christmas songs and Christmas trees are going up," Kate said. "It was really sweet."