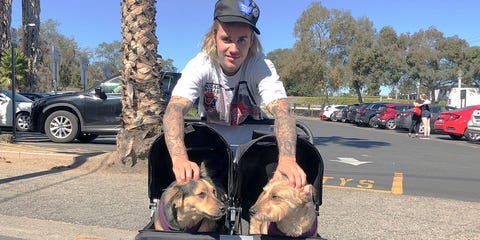 Splash NewsPap Nation / SplashNews.com
Justin Bieber went out to play soccer yesterday in Los Angeles without his wife Hailey Baldwin, but he made two new friends on the way to his game and took a pic with them just for the paparazzi. Behold, Bieber with two adorable dogs in a double stroller. They all have long golden hair/fur, so it's a picture-perfect match.
Advertisement – Continue Reading Below
The dog on the left seems infinitely more into it than the dog on the right is with its narrowed eye, just saying.
And for what it's worth to those following Bieber's facial hair styling decisions, the singer does seem remarkably more clean-shaven than he did just last week. Here he is, chatting on the phone on the 16th with a full mustache/beard thing happening: