Thousands of people are attending rival demonstrations – one in Barcelona and the other Madrid – amid tensions over Catalonia's independence referendum.
People in the capital Madrid waved red and yellow Spanish flags in support of unite, while those in Barcelona, the Catalan regional capital, dressed in white to symbolise their desire for talks and a peaceful resolution to the crisis.
Some people in Madrid also wore white in support of dialogue.
Ahead of the protests, a leading Catalan politician called for a "ceasefire" with Spain to lower tensions created by the region's push for independence which has plunged the country into a political crisis.
Santi Vila, the regional government's business minister, told Cadena SER Radio it may be the "last chance" for "a new opportunity for dialogue" with Spanish authorities.
"We have to give it one more chance, maybe the last chance, and perhaps the only way that can happen is to start with a ceasefire," Mr Vila said.
"We can all calm down and give ourselves the opportunity to not take any decisions and see what channels we can open up to start a serene dialogue."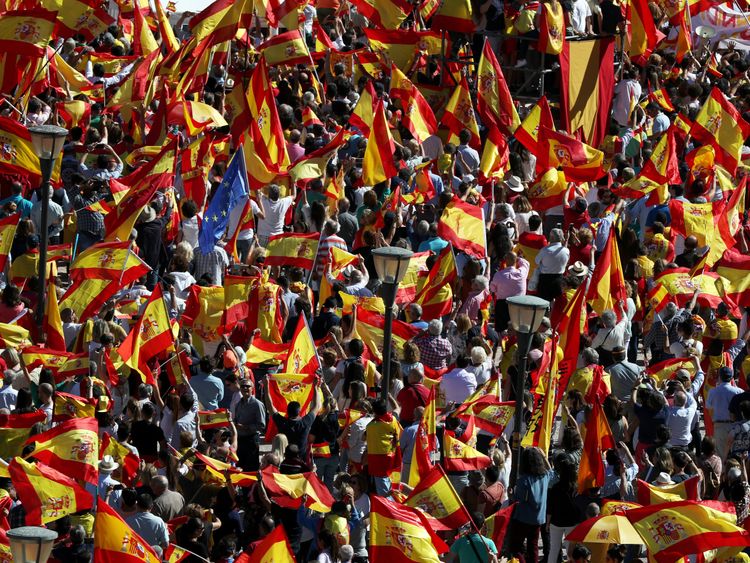 Meanwhile, Spain's secretary of state for foreign affairs has told Sky News a violent police crackdown against Catalan voters was "absolutely proportionate".
Ildefonso Castro also urged Catalan leaders not to declare independence, saying Catalan ministers will become "outlaws" if they do.
He said: "The most important thing is to be within the frame of the Spanish constitution. You can disagree with the law, but you cannot disobey the law. If you disobey the law, you become an outlaw."
Separatists claimed an overwhelming victory in the referendum, which was declared illegal, invalid and unconstitutional by Madrid.
However, less than half the electorate voted and the most recent regional elections and opinion polls suggest Catalans are split roughly in half over independence.
That ambivalence may increase after recent announcements by banks and businesses that they were relocating so regional secession would not cause them to drop out of the European Union and the single market.
Mr Vila said he is against an immediate unilateral declaration of Catalonian independence, but wants the Madrid government to hand back powers recently taken from the regional administration and a committee of experts from both sides formed to work out a solution to the crisis.