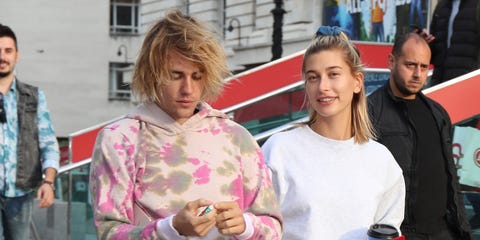 Getty ImagesNeil Mockford
Hailey Baldwin and Justin Bieber have been on a love tour recently, after allegedly getting married in New York, making out in London, and most recently traipsing around Italy for their maybe-honeymoon.
It wouldn't be a trip without documenting it on Instagram stories, which Baldwin appeared to do in a now deleted photo of her and Bieber canoodling on the London Eye. Jailey looks loved up in the snap that's dated September 18, 2018.
Advertisement – Continue Reading Below
There's no official reason why Baldwin axed the photo, but our guess is the heightened attention the couple has received since their possible nuptials a week ago. Hailey, who first denied claims that she got married in a now deleted tweet, has been outspoken about her engagement critics and relationship in the public eye. "I have learnt to just try my best to ignore the negativity at this time so that I can enjoy this season of my life," she told Stellar Magazine. "I don't think it's affected me really."