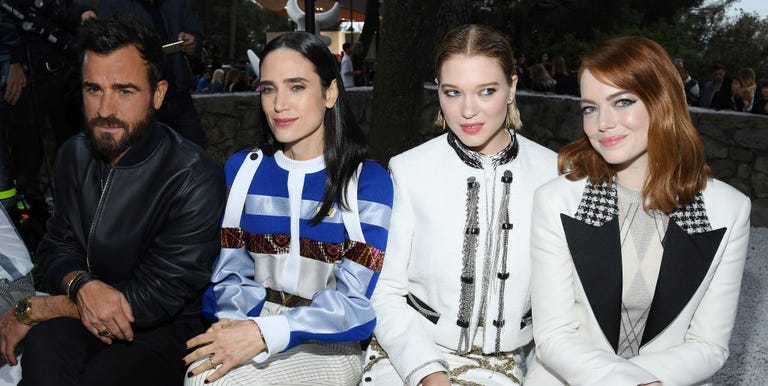 Getty ImagesPascal Le Segretain
Justin Theroux, since separating from Jennifer Aniston, has been linked to a number of twentysomething female celebrities: Selena Gomez, Petra Collins, Laura Harrier, and perhaps most persistently, Emma Stone. Stone and Theroux, who are costars on Netflix's upcoming series Maniac, spent most of this week together, vacationing in the South of France after attending the Louis Vuitton cruise show Monday night. (They're both ambassadors of the line.) That show was at the Maeght Foundation in Saint-Paul-de-Vence, France.
Advertisement – Continue Reading Below
Just Jared has photos of Stone and Theroux together at the private cabana in the same town Tuesday. Stone's in a red bathing suit, Theroux is shirtless—and ab-baring—in swimming trunks. Presumably later that day, they were photographed with Laura Harrier, Sienna Miller, and Derek Blasberg in Cannes (likely at the Hôtel du Cap-Eden-Roc), which is 40 minutes away. All three were at the Saint-Paul-de-Vence Louis Vuitton show too, and Blasberg shared a shot of himself with Theroux on Tuesday, meaning the bros likely traveled and hung together.
Advertisement – Continue Reading Below
Advertisement – Continue Reading Below
Advertisement – Continue Reading Below
What's less clear is whether Theroux or Stone visited the other's private cabana or if they stayed together. At one point, a blonde woman (who could possibly be Stone's hairstylist or another friend) came over to talk to them. But the visual of Stone and Theroux hanging alone in a cabana has sparked dating rumors, as LaineyGossip laid out thoroughly.
The photo agency, which only got photos of the two of them at the cabana, suggested they had no company. "Emma Stone and Justin Theroux spend some time together at a private cabana at their hotel in Saint-Paul-De-Vence, France," they captioned the shots. "The pair who first enjoyed lunch with friends, headed back to the cabana and could be seen laughing and taking pictures of each other. Could this be a start of a romance between the two single celebrities?"
Stone tried to shoot down the Theroux dating rumor on Monday. Women's Wear Daily reported that Stone was especially "keen" to kill the romance suggestion between them. "He's like my brother. It's really fun," Stone said of Theroux and their hanging out in France. Friendzoning does not get much more deliberate.
Stone was also reported, by Page Six, to have looked back on with her ex Andrew Garfield on a dinner date in New York City last week, before her France trip. "[They were] looking very much like a couple," a witness told the outlet of Garfield and Stone. "They were talking and sitting very close. They were laughing and smiling. They both seemed happy." So, if Stonefield really is together, it'd understandably be in Stone's best interest to squash any tabloid headlines about her and her just-friend Justin Theroux.
Theroux also attempted to friendzone his and Stone's relationship publicly back in April. He shared a photograph of them hanging out with Queer Eye's Jonathan Van Ness on his Instagram Story and wrote in the caption that they were "bffffffs. And yes. JUST bfffffs."
Advertisement – Continue Reading Below
E! also reported via a source that Theroux and Stone aren't anything more than buds. "Their friends and colleagues were with them during the day [on Monday] and they are just friends," the source said. But Theroux is very single, the source added. "He's casually dating, but it's nothing more. He's in a great place and very happy. He's enjoying being social and meeting people from all walks of life. He is excited about doing new things and traveling. He's looking forward to a great summer of fun and just seeing where it leads."
Weeks later, Stone and Theroux were photographed leaving a Met Gala after party together, though Shailene Woodley was with them too. Theroux, as Harper's Bazaar points out, shared a photo of Harrier that night—who is vacationing with them in France too, yes—so perhaps the more plausible romantic connection is there. Both Harrier and Theroux follow each other on Instagram, and the two were photographed hanging out Saturday on a yacht, before Stone and the crew publicly joined them this week.
Advertisement – Continue Reading Below
Advertisement – Continue Reading Below
Or maybe Theroux is just friends with a lot of pretty twentysomething girls. It's just as if not more possible.
Yesterday in France, Derek Blasberg posted a photo of Theroux, Stone, and Harrier all together at Hôtel du Cap-Eden-Roc (though it's less clear if it was taken Wednesday or Tuesday). But Blasberg's message is crystal clear: friend times, not sexy times, were happening with this crew!
Advertisement – Continue Reading Below
Advertisement – Continue Reading Below
Advertisement – Continue Reading Below
Stone's stylist Petra Flannery suggested the trip has come to a close on her most recent Instagram story posted yesterday, where she's leaving the Hotel du Cap. (Blasberg posted a similar Insta story of himself leaving too; he's now in Paris with Katy Perry.) Louis Vuitton was tagged, suggesting this was all part of the LV Cruise show experience.
Advertisement – Continue Reading Below
Whether Stone and Theroux or Theroux and Harrier remain there or elsewhere in southern France today, paparazzi and/or social media may or may not ever tell. Stone has no Instagram, and Harrier and Theroux haven't posted anything on theirs.