More than half a million dollars has been raised in a day for the family of an Indian man shot dead in a suspected hate crime at a Kansas bar.
The killing of Srinivas Kuchibhotla, 32, an engineer originally from Hyderabad, has made headlines in his home country.
Some people on social media have blamed it on intolerance and distrust sparked by President Donald Trump's tough stance on immigration.
Adam Purinton, 51, a US Navy veteran has been charged with premeditated first-degree murder and two counts of attempted premeditated murder.
The gunman shouted "get out of my country" before opening fire, according to at least one witness who spoke to the Kansas City Star.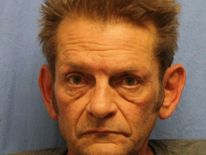 While briefly on the run he also reportedly told a restaurant worker that he had killed two Middle Eastern men.
The FBI is investigating if it can officially be classed a hate crime, motivated by prejudice.
Mr Kuchibhotla's colleague, Alok Madsani, 32, was also shot during the incident at Austins Bar and Grill in Olathe on Wednesday evening.
Ian Grillot, 24, who tried to tackle the gunman, was injured when a bullet when through his hand and into his chest.
Mr Kuchibhotla had earned a master's degree in electronics from the University of Texas in 2007 and was working at the Kansas office of GPS specialist Garmin.
Flags at its office were at half-mast on Friday and later around 400 people attended a candlelight vigil at a church across from the bar.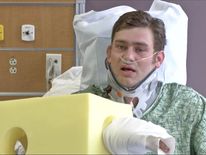 The GoFundMe page for Mr Kuchibhotla describes him as the "kindest person you would meet, full of love, care and compassion for everyone".
His wife, Sunayana Dumala, said she had been concerned about shootings in America but her husband had reassured her "only good things happen to good people".
The campaign to take his body to India and support his family with funeral costs has smashed its original $150,000 target, with more than 13,000 people having do far made donations.
More than $70,000 has also been raised for Mr Madsani, who has now been discharged from hospital.
A campaign by Ian Grillot's sisters to help him cover his medical bills has notched up $270,000.
Mr Grillot said he tried to go after the gunman when he mistakenly thought his weapon was empty.
Speaking from his hospital bed, he said: "(I) thought I heard nine shots. Expected his magazine to be empty. So I got up and proceeded to chase him down … And I guess I miscounted with everything going on."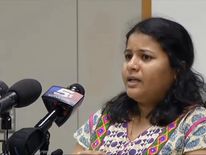 "I was just doing what anyone should have done for any other human being," added Mr Grillot.
White House spokesman Sean Spicer has dismissed any link between the killing and President Trump's policies, but others have taken a different view.
"Don't be shocked! Be angry! Trump is spreading hate. This is a hate crime! RIP #SrinivasKuchibhotla," tweeted Indian actor Siddharth to his 2.6 million followers.
A spokesman for the Indian embassy in Washington said it had expressed "our deep concern over the incident" and urged a "thorough and speedy investigation".
Suspect Adam Purinton is being held on a $2m bail and is due back in court on Monday.
Police did not say whether he had faced charges in the past.
In a statement to local media his niece, Adele Mathews, said: "I don't want people to think of him as a monster or racist man because that's not who he is."