Thousands of voters who propelled Donald Trump to the White House are heading to Washington this week to witness his inauguration.
The tycoon's election victory in November has been followed by one of the most unusual transitions in presidential history.
In the face of major protests across the country, many of Mr Trump's supporters remain just as convinced that he is the right choice.
Dozens of groups will converge on the US capital for Friday's historic handover of power.
Few are as devoted as the dozen setting off from the Cowboy Church of Jerusalem in rural Georgia.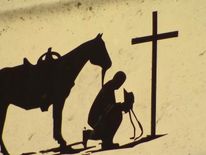 The church – and its school for low-income, at-risk children – sits at the southern end of Appalachia, a swathe of the US with a history of poverty and isolation.
It voted overwhelmingly for Mr Trump.
"He's just a man, he's human just like we are, he can't change this whole thing but God can," said founder Rebecca Hampton.
"We have purpose to pray for him every day to give him wisdom and help him make the right decision to help us, help our children and help our nation."
She and first-time voter Ava Coxe are among those who will be in Washington. Both say Mr Trump remains their choice.
Ms Coxe said: "I'm very excited for him to go ahead and take the office because of the way he handles the people fighting against him.
"He's not doing anything major to fight back, he's being a man, he's taking it and he's going to go in to office and do what's right."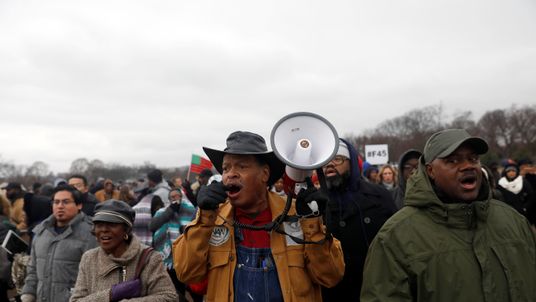 The trip will also include a group of students who will vote in the next presidential election. They are also Trump fans.
"I think some things have been a little rocky because some people are just not very happy about it," said 15-year-old Kaylin Prosser.
"I just keep getting more and more excited about it."
Victoria Adams, 17, added: "I think things will smooth out once he is president for a little bit. I think things will get better."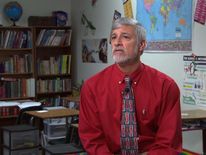 These hard-hit communities, robbed of traditional industries and economic sustenance, have pinned their hopes on Mr Trump's presidency.
Alan Morris, who has organised the trip to Washington, said: "None of us here believes that our President-elect is our saviour.
"But we do feel like is giving us an opportunity to advance in a more positive direction economically which for these people that is an enormous benefit for them."
:: Watch live coverage of the inauguration on Sky News from 3pm and Sky Atlantic from 4pm on 20 January. Adam Boulton is in the US presenting a special Sky News programme – Trump: America's President – every day at midnight from now until Friday.
Read more:
:: CIA boss John Brennan says Trump does not understand Russia
:: Will Trump spell the end of two-state solution?
:: The world according to Trump: 14 burning issues
:: Your guide to Donald Trump's inauguration
:: What date is Trump's inauguration and when does he become President?