Olympic champion runner Caster Semenya could be banned from entering middle-distance races unless she takes medication to lower her testosterone levels.
New rules have been announced for athletes with "differences of sexual development (DSD)" who compete in track events from 400m to one mile.
Women with elevated natural testosterone will now have to reduce their level for a continuous six-month period before they are eligible to compete, the International Association of Athletics Federation (IAAF) said.
It means Semenya could be forced to compete against men or start racing at distances above 1,600m unless she takes daily medication to lower her testosterone.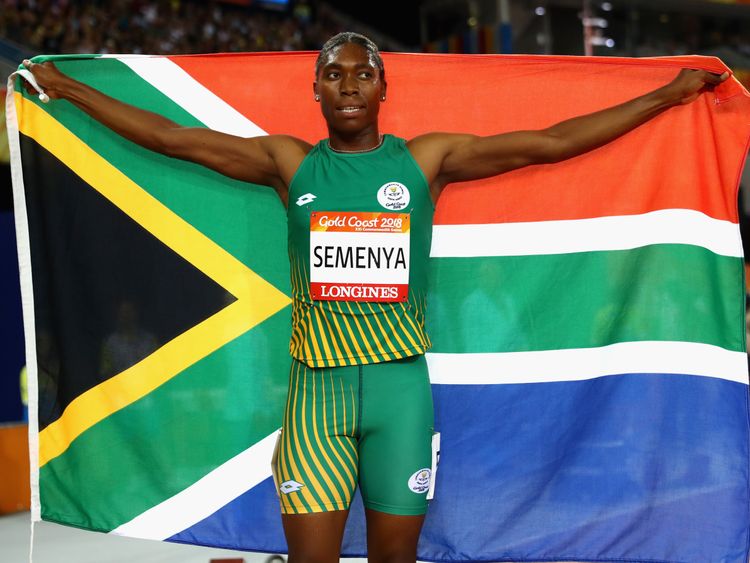 The South African star, who won Olympic gold in the women's 800m races at London 2012 and Rio 2016, has competed under intense scrutiny during her career and had a gender verification test in 2009.
IAAF president Sebastian Coe said the new rules were to ensure a "level playing field for athletes".
He added: "The revised rules are not about cheating, no athlete with a DSD has cheated. They are about levelling the playing field to ensure fair and meaningful competition in the sport of athletics where success is determined by talent, dedication and hard work rather than other contributing factors."
Earlier this month Semenya won gold in the 800m and 1500m events at the Commonwealth Games.
In a post on Twitter after the rule change announcement, the 27-year-old said: "I'm 97% sure you don't like me, but I'm 100% sure I don't care."
Dr Stephane Bermon, from the IAAF's medical and science department, stressed that "no athlete will be forced to undergo surgery" under the new rules, which come into force in November.
He said: "The treatment to reduce testosterone levels is a hormone supplement similar to the contraceptive pill taken by millions of women around the world. No athlete will be forced to undergo surgery.
"It is the athlete's responsibility, in close consultation with her medical team, to decide on her treatment."
In 2011, the IAAF enacted a rule to force athletes with hyperandrogenism to artificially lower their testosterone levels to be eligible to compete.
The rule was later were suspended by the Court of Arbitration for Sport in 2015.