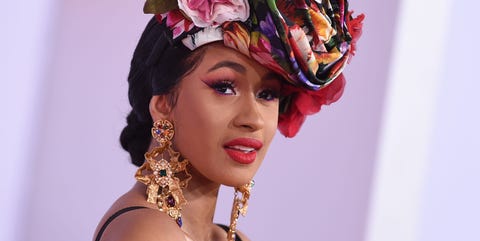 Getty ImagesVALERIE MACON
This morning, TMZ reported that Cardi B may have a diss track about Nicki Minaj coming, though she and her team are conflicted about whether or not to release it. That report is BS, Cardi made clear on her Instagram when she posted, then deleted a screenshot of text messages exchanged with a TMZ reporter in which her team denied Minaj has any place in Cardi's upcoming new music.
Advertisement – Continue Reading Below
Cardi first took aim at the outlet's persistence in trying to get a shot of her and her daughter Kulture:
"Dear TMZ …You see you really pressed my button a couple weeks ago when ya had photographers literally stalk me and my daughter when I clearly said repeteadly [sic] I don't want to show my daughter. With fame comes crazy people, stalkers, and phychopaths [sic] so I want to protect my child 'till I'm ready to show her to the world but NO integrity don't matter to ya," she wrote.
Then she commented on the Minaj rumor and gave the real date of her next single's release:
"Then ya constantly got me in ya blog spreading fake shit about me without doing ya research and even when we tell ya is not true ya still push it. Ya motherfuckers need to get off my dick and start reporting about them actresses ya used to report about cause I'm not one to fuck with THANK YOU!! Btw in REAL news my single 'Money' drops November 26!!"