Rising floodwaters have caused at least 14,000 people to flee their homes in San Jose, California, as storms cause havoc in the state.
The flooding has caused a major road to be closed in both directions south of nearby San Francisco because of water across lanes.
Officials said they did not know when the US 101, a key commuter link into Silicon Valley, would reopen.
Authorities went door-to-door overnight ordering thousands of residents to leave their homes for safety as streams and reservoirs overflowed.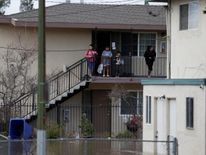 "The water started to seep in the driveway, and then it started to creep up into the front door. It kept getting worse and worse," said Alex Hilario, who walked in knee-high water to get to his car and leave.
The rains are the latest in a series of storms that are generated by so-called atmospheric rivers that dump massive quantities of Pacific Ocean water on California after carrying it from as far away as Hawaii.
Communities in northern California are also bracing for flash floods for the first time in 20 years, after a surge of water was released from the Don Pedro Dam into the Tuolumne River.
Katie Whitley, who manages the Driftwood Mobile Home Park in Modesto, said residents living close to the river have been moving their trailers out since the start of the weekend.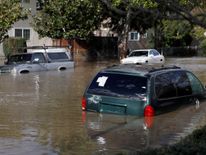 "We're just holding our own," she said.
"That's what we have to do. You just have to hope for the best. But you can expect it when you live on the river."
Elsewhere, the Anderson Dam in Santa Clara Country began overflowing into Coyote Creek at the weekend
On Tuesday people were rescued in boats from a San Jose neighbourhood flooded by the creek.
The San Jose fire service said at least 225 people were taken to safety and rinsed with soap and water to prevent them from falling ill from the dirty floodwater.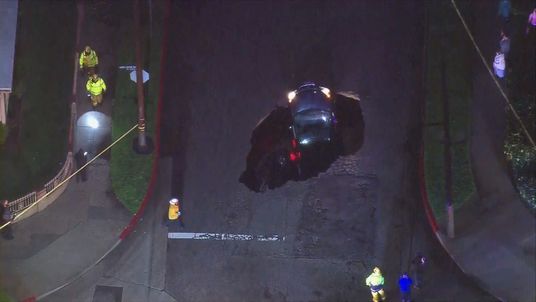 The water level also rose at Lake Oroville for the first time since 188,000 people were evacuated after a damaged spillway at the dam caused flooding concerns.
At the weekend the storms caused two sinkholes to open up swallowing cars into the ground.
The storm also caused more than a hundred homes near Los Angeles to be evacuated due to the threat of mudslides, and left 100,000 people without power.
At least four people have died in storms across the state in the past week.